Does this sound familiar to you? The battery of your mobile is running out of energy and there's no socket around? That's no matter of course for motorists - they simply plug the power supply into the cigarette lighter of their car. But even in the 21st century, it's quite impossible for you riding a bike. All those nice and useful gadgets like sat nav, GPS, MP3 Players, PDAs, digital cameras and mobiles will soon stop working if there isn't a sufficient power supply around.
We experienced this kind of problem many times on our tours and no matter where we looked about to find a solution - no outdoor specialist, bicycle store or online shop would help us. That's why we decided to develop Zzing. Zzing is built according to our own needs and wishes and packed with our experiences from many journeys around the world.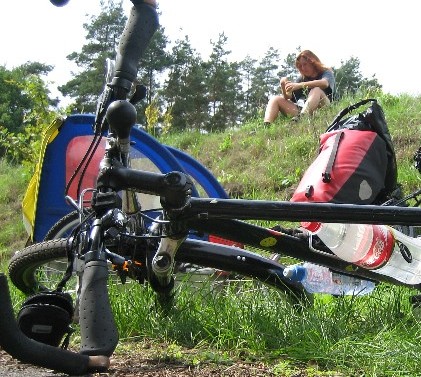 In Summer 2005, we were following the Saale/Umstrut cycle path when disaster struck. Stuck in a thunderstorm with our trailer deep in the mud of a cowfield. After a brief shouting match over who is responsible for this debacle, we decided to purchase a satnav device for future cycling.
Fastforward to Autumn, on the road again, this time with the satnav - surely well prepared, or so we thought. but after two hours we knew what we had forgotten - an extremely long cable for our electronic scout. So there we were again, fruitlessly searching for the next signpost.
Back in Berlin, we scoured through all our old bike shops to find a solution to our energy shortage - and nothing. Next we tried the outdoor shops. There are solar devices - certainly not bad for someone who is located on a desert crossing, but in our latitudes, not helpful. The survey of the Internet brought no satisfactory answers. So we set out ourselves to build bicycle-based power supply. The result is Zzing! A cable to a hub dynamo, no battery, a black block with the aesthetics of a brick, but the warm glow of our satnav proved we were on the right track!
After this first success came the next goal - continuous power even when we weren't on the move. We always seemed to want to use our mobiles and mp3, just when we could provide least power. Dinner in the tent. You've just typed in the last letter of the message and... the screen goes dead. There goes the battery. So now Zzing has been designed to store the energy produced, so no more of those annoying moments.
Now that we can cycle happily through the day, and at night in the tent read, listen to music and make phonecalls - we are finally satisfied!